THE CONTEST
Moon Race 2001 is the AERO-PAC group project for LDRS XX at Lucerne Valley California in July 2001. The project consists of two rockets, built by separate teams, which were to compete for spectator appreciation.
Each rocket was to be built to 1/16th scale and use the full N impulse of 20,480Ns, the maximum allowed in California. The rockets were to be heavily clustered and at least two-stage to create impressive flights. Since the waiver only allowed 10,000 feet of altitude, and since the audience was on the ground, the rockets were designed not to fly high.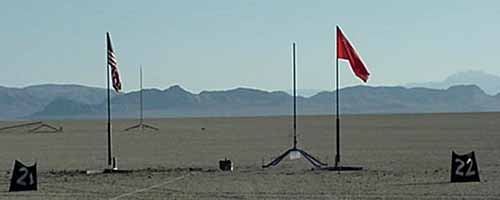 The American team never completed building the Saturn V so the N1 flew by itself at LDRS XX. But, what a flight that was!